SIGHTSEEING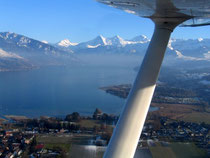 Enjoy alone, with friends, relatives and staff the unforgettable experience of a sightseeing flight around the Alps.

Recover with us the famous mountainside from the air. Fly with us into valleys, over glaciers, lakes and rivers. Unforgettable impressions you never will forget. Well trained pilots, , strict rules and ideal maintained airplanes guarantee for your safety.
We wish you a pleasant flight!
We fly under visual Flight conditions from the airport Innsbruck fundamental on all weekends (Saturday and Sunday) and official holidays (during the week on request). Minimum attendance 2 passengers each flight (we will book passengers together if it´s necessary), maximum 3 passengers each flight.
In case of traffic or weather conditions modifications of the air route are possible. All prices are excl. VAT, airport and security fees includet.

Reservations daily between 08.30 until 17.00: +43 664 300 99 88